From Money to Bunny: The Workings of Fitting a Widebody
Let's face it. At this point in time the widebody hype is something we will all have to live with. Much as people rave or loathe the trend, there will always be that route for those who want more presence out of their chosen platforms. Considering how much they transform the look of certain vehicles, folks that have been blessed with a healthy build budget can go this route for their cars. And with social media churning out snaps of a new widebodied car on a regular basis, people seem to think that actually installing these kits are a simple bolt-on affair.
That said, the internet can be a much deceiving place. People fail to understand that it actually takes a lot of meticulous fitting, re-fitting, and quadruple checking before you can bust out the angle grinders. Truth be told, it isn't as simple as slapping on a wider fender on top of the existing ones – there's plenty more variables to explore before the actual procedure.
Getting a look into this process however requires that we bear witness to a build in progress. The way we see it, the best way to document this is to first show our subject in its stock form, during the build, and then the final result. We've been toying around with this idea for awhile, and thankfully Mikko Buendia showed up with a stock Lexus RC-F – and a plan to debut its Rocket Bunny kit at the 2018 Trans Sport Show.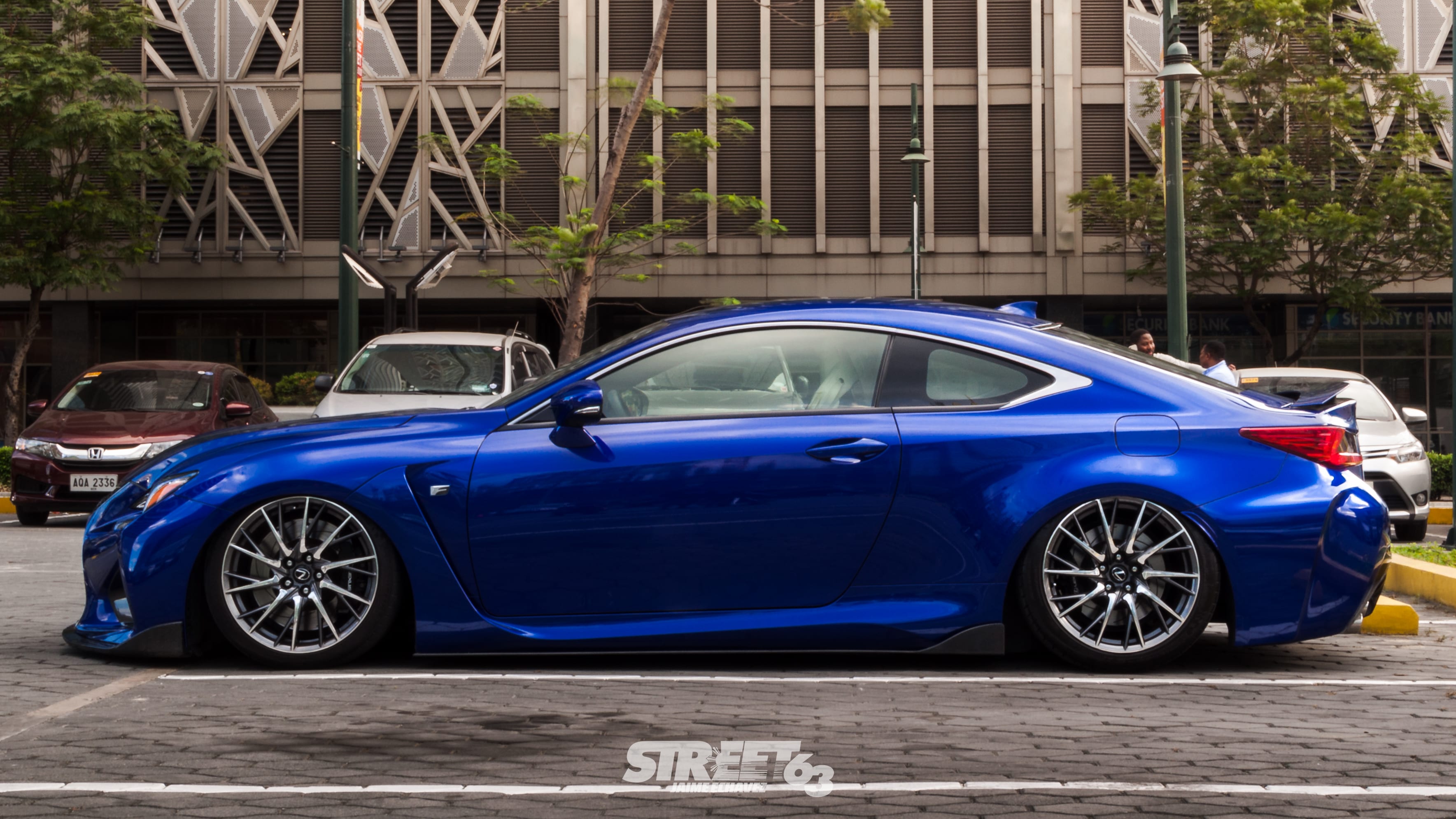 For starters, Mikko had already fitted AirRex struts with an AccuAir E-Level Suspension Management System to prep the RC-F for the next steps of the build. Seeing as the kit should be saved from all the ruts and bumps of Metro Manila, going with air suspension was the most sensible choice to match the upcoming widebody. That besides, the wheels were still stock at the time since the new wheels were specced to match the new fenders. We've laid out a few 'before' photos here so we can give ya'll an idea of just how wide this RC-F will get after the conversion.
The next time we caught Mikko and his RC-F was when it was over at Alex Restoration finally getting geared up to go under the knife just in time for the 2018 Trans Sport Show. This was where we had a chance to look at the intricacies behind the fitting of a Rocket Bunny kit – bits that we can go through and show to everyone here.
Before any chopping happens, the entire kit has to be 'mocked up' against the body to check for inconsistencies. Much unlike the 'bolt on' impression of these kits, everyone who knows how it is to work with fiberglass knows that not every piece will be perfect – even if it comes from a reputable maker like Kei Miura. There will always be ill-fitting areas or kinks and dimples on the fiberglass that will need massaging and re-finishing before it gets painted. Once the whole kit has been mocked up, every piece needs to be aligned to a tee.
Kit alignment is something that tends to be neglected by rookie installers. In order to pull off the proper look, alignment needs to be spot on to ensure that nothing looks crooked or disproportioned. To give you an idea of just how important this is, Akira Nakai spends more than half a day's worth of time checking his RWB kit installs on every Porsche he builds. Despite having an eagle's eye such as his, he will take his time making sure that every since piece of the kit will fit as if it was meant to be on the car in the first place.
Once alignment is complete and the holes drilled to secure the overfenders, the stock fenders need to be cut a fair amount to allow the wider wheels some fair level of travel as it goes through bumps. If this isn't performed not only will there be severe rubbing issues, you may just slash your new wide tire altogether. Of course, you can't cut too much of the fender out too, meaning very delicate hands that are used to a grinder have to be employed to make sure that every fender is cut to meet the new widefender properly.
People think that having a widebody immediately makes the car stand out. It does, but there is one other piece of that puzzle to match the widebody that some owners tend to neglect: Wheels. When you're running a proper widebody, you can't cheap out on wheels that have positive offset and then just apply spacers to match the lip to fender – that's the vehicular equivalent of skipping leg day. Big fenders means you ought to have meat under those wells to truly complete the look, and for this RC-F a special set of Three-piece Platinum Forged wheels sized 20x10.5 front and 20x12.5 out back ensure that the Rocket Bunny fenders are done justice.
The pieces of the jigsaw puzzle that is the Rocket Bunny RC-F Ver. 1.5 kit were completed just in time for the 2018 Trans Sport Show. But while the vehicle truly looked phenomenal inside the SMX Hall, its true shine lies on the streets. We've had several chances to hang out and take photos of Mikko's RC-F since, and he's been around enough lately to lend us a hand with running our little pet project. Quite odd that this guy wants to hang out with guys that mostly run junker sports cars from the 90's, but we'll take it anyway.
That said, we'd like to welcome Mikko Buendia as part of the Street63 crew. You'll certainly be seeing more of his RC-F from here onwards.
Words by Aurick Go
Photos by Jakob Go, Jaime Miguel Echavez, and Jose Altoveros