Stateside Trifecta: A Trio of US-Spec Hondas
Here in the Philippines there's no second guessing that Hondas have a huge representation among the enthusiast community. With largely accessible parts from shops across town and general ease of maintenance, these cars make for an easy gateway into building cars and the aftermarket in general. But while we've been familiar with the legendary Civic EK SiR and even had the new FK8 Type R brought in, you could say we still missed a sizeable chunk of Honda's high performance pie.
With models such as their 90's Type R lineup, the venerable S2000 rear-wheel drive roadster, and the championing NSX avoiding our country altogether, local enthusiasts have gone far and beyond to bring in these sought-after models into local soil. Today, we've gathered a few examples of Hondas you would otherwise see on the other side of the world. All rare, all fundamentally different, and funnily enough, all red.
2012 Honda Civic Si (FG4)
We start off with the newest among our trio here. While this model isn't exactly a 'Type R', the ninth-gen US-Spec Civic Si is a decent performance-oriented daily driver that balances streetability with a bit of kick. Unlike the lethargic four-door FB Civics we get here, the FG4 Civic Si is fitted with a rather large K24Z7 mated to a six-speed manual transmission. These days it's a novelty to see a new performance vehicle fitted with a proper stickshift, it's too bad these things hardly get sold anymore – hence their rarity especially in Manila.
This particular FG4 Si has been setup for regular circuit use. You see, this Civic is Chris Ho's new track toy. With a need to learn racing a stickshift and be familiar with a front-wheel drive platform, the Civic Si became a sensible pick for the seasoned track rat. If you'll recall what he could do with a hefty Ford Mustang, you can only imagine what he can do with this once it's dialed in. Power mods are limited to bolt-on intake and exhaust pieces like an AFE drop-in, Rev9 downpipe and a Borla XS Exhaust. All these governed by a remote tune from Innovative Motorsports in Pensylvannia.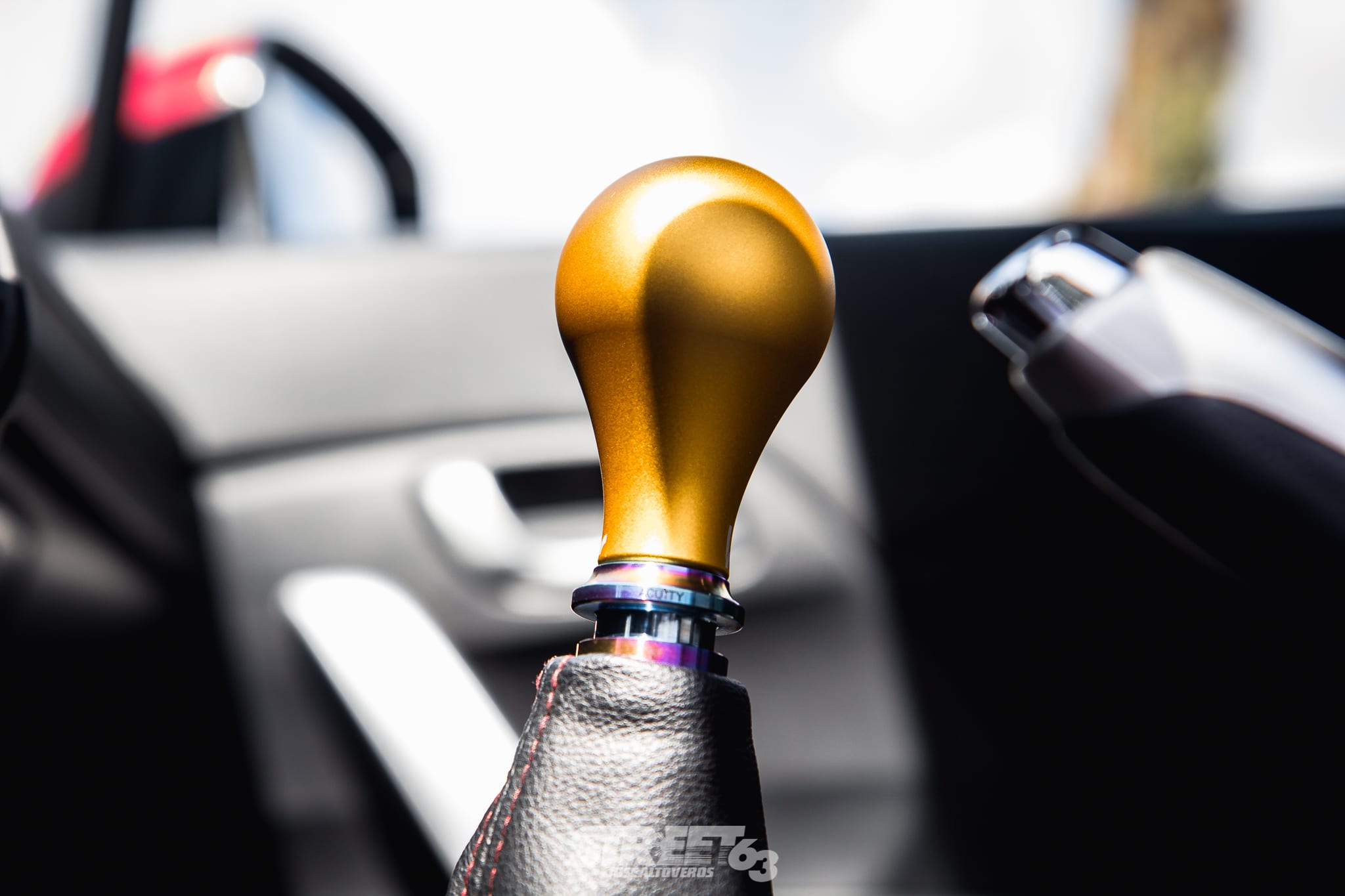 That said, his approach for modifying this does not focus much on power – instead taking care of bits that will help the driver corner. K-Sport struts take care of making sure footwork stays where they need to be – on the pavement. A reverse-staggered set of König Ultraform wheels have a set of Bridgestone RE-71Rs fitted for copious amounts of progressive grip on the track. Peeking behind the spokes are the signature blue Spoon Nissin calipers that actually serve their purpose instead of being flaunted at car shows.
Despite being a Civic this car is still a highly unusual track platform around our parts considering its rarity and relatively heavy weight. But with how Chris studies and does his homework, we're sure he's onto something as far as performance potential goes with this one.
2006 Honda S2000 (AP2)
This AP2 Honda S2000 is more familiar territory for us here at Street63. Japanese rear-wheel drive, lots of aftermarket goods sprinkled all around, all built in tasteful fashion. It amazes us that while Honda cashed in on the whole front-wheel drive fanfare, the S2000 is their sole proof that they could do a rear-wheel platform just as well – and be a true instrument at the hands of a proper driver.
An S2000 around these parts is already uncommon as it is, and for the most part these cars were brought in from japan and then converted to left-hand drive. Vehicles like these would usually be earlier versions of the S2000, the AP1. A handful of updated units however were brought in from the US in original left hand drive, just like the AP2 we see here. Aside from not having to worry about shady rack conversions, an original US version AP2 would be the most ideal platform to build an S2000 upon considering it's the least old among the rest.
The AP2 is known for bumping up the 2.0L F20C inline-four to the 2.2L F22C. The example we have here has a few more bits to bring out more grunt from the naturally aspirated lump such as a J's Racing intake as well as a J's Racing header mated to a Tomei Titanium Exhaust setup. Bits of the engine bay have also seen their share of improvements to further round out the performance side of things.
Exterior-wise this S2000 has everything sorted without going over-the-top. An ASM CF Hood and Trunk give the top half of the car a good lightening while a JDP Rear Wing and Diffuser set it off nicely at the tail end. Dropping the soft top will reveal a mint interior with a pair of really really rare Recaro RS-G Super Starks taking center. The seats are tastefully matched with an ARC Titanium Shift Knob as well as a Personal Neo Grinta steering wheel. Engine vitals are all monitored via the small screen of the Defi-link Advance Zd near the digital tach. Occupants are also made safe with a Cusco/Safety21 Roll Bar mounted at the back with Cusco 4-point harnesses for those spirited runs.
The aero pieces on this S2000 are set off by a staggered set of Desmond Regamaster Evos wrapped in Toyo R888R rubber. Behind the iconic rega spokes lies an AP Racing BBK up front with matching J-Hooked Rotors out back. HKS Hipermax 4 SP coils as well as a host of Cusco, Spoon, and Hardrace goodies underneath take care of keeping the S2000 surefooted.
These days you would be hard-pressed to find a properly worked S2000 around town, but with examples like this AP2 making itself known there ought to easily be enough motivation to get cracking on finding one of your own. Of course, builds like these don't happen overnight – there's a lot of long nights at work and waiting from couriers for parts to get your car to this level.
1991 Acura NSX (NA1)
If we ever feature any 'bone stock' cars on this page, we ought to have a very good reason for doing so. Anyone can pick up a brand new Civic from the dealership and be proud of it's stock-ness, but for our case we only want to look at cars that, despite their rarity, have stood the test of time. Cars that, for all the decades since they've rolled off the factory, have somehow stayed immaculate and mint. It is thanks to the meticulous previous owners of these rarities that we get to experience a neo-classic in all its factory goodness – and boy have we gotten a good sampling of this 1991 Acura NSX.
In a rather flattering gesture of trust by its owner Jp Carino, we were handed the keys to this NSX for the morning of the shoot. Stepping into the cockpit of the NSX feels like you're about to wield a giant broadsword of a car. It may just be that I am not used to driving a mid-ship, but backing out of its parking space took a little bit of getting used to; Not to mention the lack of power steering gave me a good morning workout. Once on the road though, the NSX is as composed as any other Accord or Camry of the time. Civil exhaust note, a manageable clutch, and a greenhouse you can actually see out of all contribute to making a decent daily driver out of the NSX despite its 'supercar' layout. Perhaps a similar Italian 90's supercar might have been a more traumatic experience puttering around the metro.
Dressed in Formula Red and easily mistaken by the uninitiated as a Ferrari, you would expect the NSX to dominate everything else on the road… but you'd be wrong. To put it simply, the NSX is long-legged when it comes to gearing. Considering its specced for the American market, this particular Acura NSX appears to have gears that would be more suited towards highway cruising more than it would be racing stoplights from block to block. To be able to truly appreciate the NSX for what it is, you will need a proper stretch of road or a track with long sweepers to get it to dance. If you've seen those videos of Ayrton Senna driving one of these on Suzuka circuit, that should give you an idea of its ideal environment.
It's easy to take for granted just how accessible the 'supercar experience' is with all the technology around us right now, but back in the 90's it's amazing just how well Honda was able to deliver this with nary a backup camera, traction control, or other tech nannies in sight. All this was done with true craftsmanship and engineering, proper knowledge of metallurgy, and the deft hands of a driver that truly knows what he wants out of the car.
Our three examples of Hondas throughout the years tell a story of just how invested the H brand is towards their quest for a proper performance-oriented experience. Whether it's front, rear, or mounted a-midship, Honda, at some point or another, have made their case for a true performance vehicle – no matter what the powertrain.
Words by Aurick Go
Photos by Jose Altoveros
2012 Civic Si Coupe (FG4)
Rev9 Power catless downpipe
Borla Pro XS muffler
AFE Drop-in air filter
Spoon Sports 155f thermostat
Mugen high pressure rad cap
Hybrid Racing Maxim weighted shift knob
Acuity Instruments shifter base bushings
Acuity Instruments clutch cable bushings
Acuity Instruments throttle pedal heel-toe relocator
HID Stage 3 Retrofit by Tots with Osram Cool Blue Boost bulbs
Paint protection films by Autofoil
K-Sport single adjustable coilovers
Progress Competition rear anti-roll bar 22mm
MOOG Parts upgraded endlinks
SPC Camber bolts
SPC Rear Camber Arms
Spoon Sports Monoblock calipers
Goodridge stainless steel braided lines
Raybestos Rotors
GLOC Competition Brake Pads
Castrol SRF brake fluid
Konig Ultraform wheels. 17x9 front, 17x8 rear
Bridgestone Potenza RE71R tires. 255/40/17 front, 225/45/17 rear
Remote tuned via Hondata Flashpro by Derek Robinson of Innovative Motorworks based in Carlisle, Pennsylvania.
Pennzoil Ultra Platinum engine oil 5w30
2006 Honda S2000
Engine and transmission
J's racing tsuchinoko intake
J's racing cooling plate
J's spl header
Tomei supreme ti exhaust
Tomei expreme ti testpipe
Cusco oil catch can
Cusco exhaust hangers
J's thermoswitch
J's thermostat
Mishimoto oil cooler
Samco rad hose
Koyo radiator
Hasport engine mount
Hondata intake gasket
Exedy hyper single clutch
ARC heatshield
Hondata flash pro ECU
Defi-link Advance Zd
Suspension:
HKS hipermax 4 SP
Cusco front cf strutbar
Cusco rear cf strutbar
Cusco front swaybar
Cusco rear swaybar
Hardrace front bumpsteer kit
Evs halfshaft spacers
Spoon rigid collar
Spc front camber kit
Spc rear camber kit
Exterior
Asm CF hood
Asm CF Trunk
Oem front lip
Downforce cf front splitter
Downforce side splitter
Jdp engineering spoiler
Jdp engineering cf rear diffuser
Wheels and Brakes
Desmond regamaster evo 17x8 front 17x9 rear offset +38
Toyo proxes r888r 225/45/17 front 255/440/17 rear
Ap racing bbk (j hook) front
Ap racing rear j hook rotors
Interior
Personal neo grinta steering wheel
Worksbell rapfix gt-c
Worksbell shorthub
Recaro rsg super stark
Nagisa auto double lock railings
Arc titanium shiftknob
Cusco 5 pt roll bar
Cusco 4 pt harness
Sounds
Alpine cde-163bt HU
Focal expert 3 way seps
Firland amp
Bose spare tire 6" sub
1991 Acura NSX Mod List