Hearts Day Special: The Two in 'MR-2'
While we may have lured you over with snaps of a red SW20 Toyota MR2, today we'll take a different twist from the usual spiel of featuring cars. If you haven't noticed, today is Valentine's Day 2018. And in the context of enjoying the automotive hobby there has always been one elusive thing for most regardless of how big your build budget is: A significant other that enjoys cars as much as you do.
Many would consider female car enthusiasts a rarity in themselves – let alone having a girlfriend that enjoys the same hobby. But for Quattro Adriano and Elysse Menorca, it appears they've been lucky enough to share the same passion for all things with four wheels. Truth be told though luck is only one side of the equation, because just like anything worthwhile a lot of effort goes into a relationship for it to work.
If their names ring any bells, you may recall Quattro and Elysse as the couple that made it as Filipino representatives for the final leg of GT Academy 2016 in the UK. These two go well beyond sitting pretty beside their 'Ferrari', they've actually got the skills to save themselves from snap oversteer. The road to their uncanny achievement of becoming our representatives for GT academy was a year-long ordeal for the couple – and also the very reason why Quattro was able to get Elysse into the hobby.
You see, back in 2015 Quattro was already gunning for a spot in the finals of GT Academy, and back then Elysse would be the supportive girlfriend cheering on as he tries to beat the clock. Thanks to the long lines and waiting all day, certainly boredom would be their biggest enemy. Instead of leaving Quattro to play and going out shopping, Elysse tried her own hand at playing GT Sport for kicks – and did fairly well. Having not qualified in 2015, the couple then decided to get right into training for the next year.
Countless hours behind the sim rig over the full course of the year meant the couple have sharpened their skills enough to be ready for GT Academy 2016. And while ultimately they didn't win the competition, the experience was certainly enough to give them the motivation to continue with motorsports. Today Quattro and Elysse continue to participate in grassroots motorsport events – with the aim of getting as much seat time behind a real car this time around.
With their transition from Gran Turismo to real life in full swing, the couple use an AE92 corolla for regular track duty. That's not to say Quattro's SW20 MR2 doesn't get a fair share of action on trackdays too though. Sticking as close as it can to the dream of one day getting a Ferrari, the MR2 comes in Super Red along with a plethora of choice pieces from Tom's. The tail lamp garnish in particular makes the rear end reminiscent of a Testarossa. Added functionality comes by way of the Tom's Air Scoop to give the midship 3S-GTE some much needed air to breathe as well.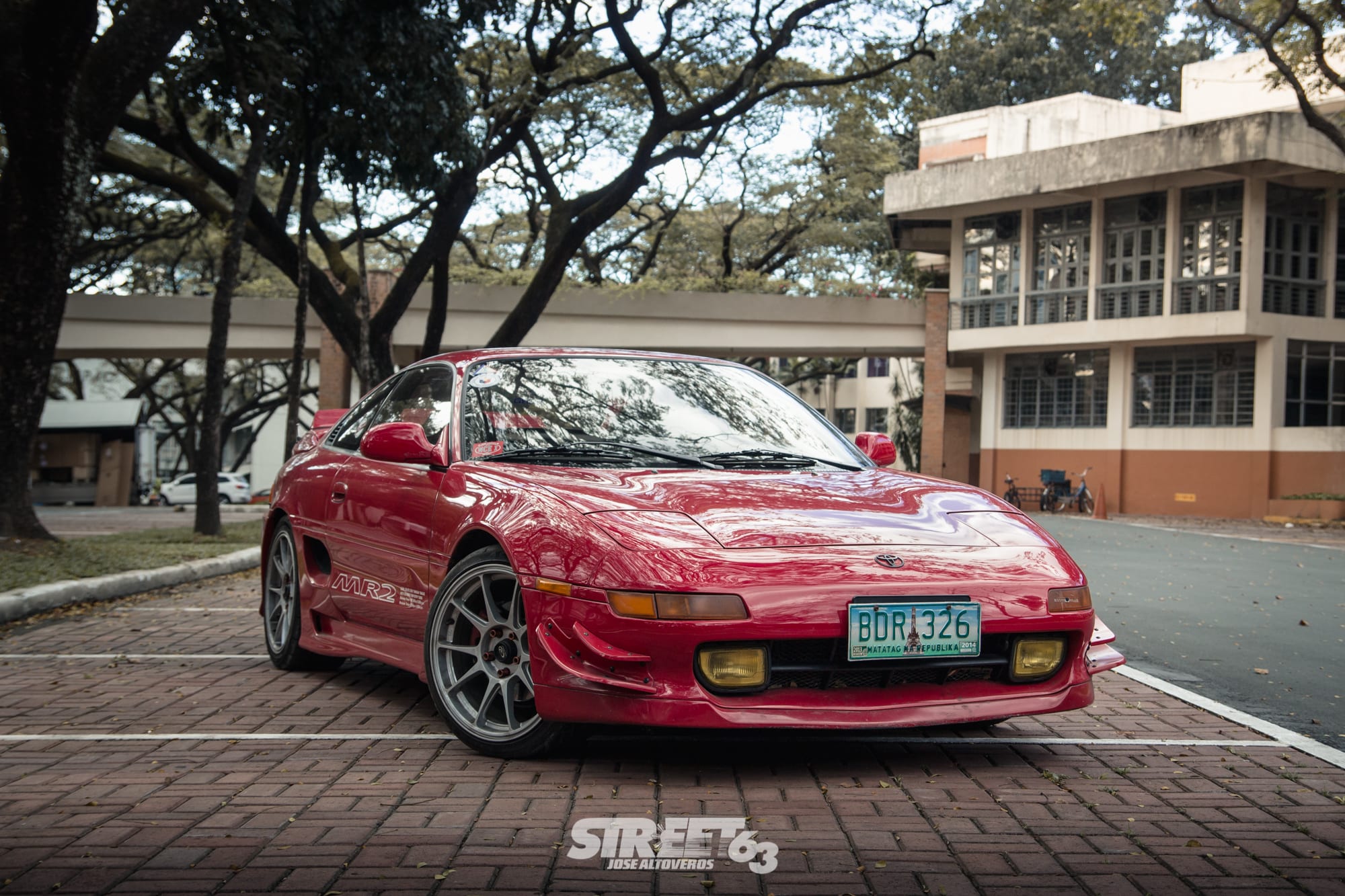 The Tom's theme continues well beyond the exterior pieces, as this MR2 also gets a lot of changes for its footwork. The front strut bar, underchassis brace, and stainless brake lines all come from the Toyota specialist. That aside, a set of Blitz ZZ-R coilovers, full polyurethane suspension bushings, and even a Geometry Correction kit were thrown into the mid-ship to improve its notoriously finicky handling. All these bits underneath can only be thought of by somebody who knows what they need to get out of a car at the limit – again, something the owner definitely knows a thing or two about.
Beyond the fancy sports car, the crazy feats in GT Academy, and everything you think this ideal couple could be, it appears Quattro and Elysse share the same qualities as any couple that have made their relationship work. As cliché as it sounds, theirs is a clear cut case of supporting each other to do their best in whatever they do, it just so happens they both like racing.
Words by Aurick Go
Photos by Jose Altoveros
1992 Toyota MR2 GT (SW20)
Engine and Driveline
Fourth Generation 3S-GTE
SARD Intake
TCS Motorsports Intercooler Kit
Prime Driven CT15 Billet wheel Turbocharger
Prime Driven Downpipe
AM Performance Titanium straight pipe
Twos 'R Us Manual Boost Controller
Cusco Oil Catch Can
Tom's Radiator Cap
SARD R2D2 Blow Off Valve
TRD Spark Plugs
Factory Viscous LSD
Suspension, brakes, and chassis
Blitz ZZ-R Coilovers
Prothane Urethane Suspension bushings
Wilhelm Race Works Suspension Geometry Correction Kit
Rota Titans 17x8
Achilles 123 Fronts 205/40
GT Radial Champiro SX2 Rears 235/40
Stoptech Front Brake pads
Project Mu Type NS Rear Brake pads
Tom's T020 Front Strut bar
Tom's T020 Under chassis bar
Cusco Rear Strut bar
Tom's T020 Brake lines
High & Tight Sway Bar Endlinks
Exterior
Tom's T020 Side Skirts
Tom's T020 Rear Bumper
Tom's T020 Air Scoop
Tom's T020 Taillight Louvre
Tom's T020 Garnish and Emblem
Border Racing CF Canards
D-Spec Garage Extended Gurney Flap
Toyota MR2 Decals
Toyota MR2 Indiglo Emblem
Interior
Tom's Steering Wheel
Tom's Horn Button
Tom's Shift Knob
HKS Turbo Timer
SARD Boost Gauge
Bosch Tachometer
Okuyama Carbing Pedals
Work's Bell Quick Release Hub
Toyota "Man in dandism" floor mats
Speed Source Shifter Bushings
Chico Race Works Solid Roller Clutch Pedal Clevis Kit